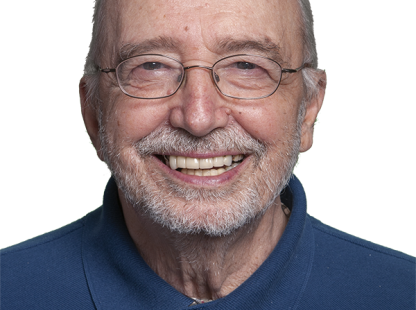 Remembering Angelo J. Perna
In memoriam of Professor Angelo J. Perna.
(15 September 1931 – 1 July 2020)
It is with great sadness that we inform you of the passing of our longtime colleague Professor Angelo Perna, who died on July 1, 2020 after a long illness.
Angelo Perna was a Professor of Chemical Engineering, serving as educator, researcher and mentor at NJIT for more than 50 years. Among his recent duties he was Director of the Ronald E. McNair Post-baccalaureate Achievement Program and advisor to the chemical engineering honor society, Omega Chi Epsilon. He served for many years as the advisor to the Student Chapter of the American Institute of Chemical Engineers (AIChE) and taught many courses to undergraduate and graduate students.
Professor Perna was widely recognized in his field.  A Fellow of AIChE, he was highly active in this professional society and was the recipient of its highest service awards. Most recently, he earned the distinction of a Lifetime of Service to AIChE, presented to him in February 2020. Earlier, he was the recipient of the AIChE's Shining Star Award (2015), recognizing significant contributions and exceptional volunteerism.
Professor Perna joined NJIT in 1967 after graduating with a doctorate from the University of Connecticut. He earned his Master of Science and Bachelor of Science degrees in Chemical Engineering from Clemson University. Among his many contributions to the education of Chemical Engineers at NJIT, Professor Perna was the developer of the NJIT pilot-scale Unit Operations Laboratory, designed and implemented with his long-time collaborator and friend Professor Deran Hanesian. This remarkable facility continues to serve NJIT's chemical engineering students to this day, providing realistic hands-on experiences and preparing our students to tackle the complex challenges of the industry and the marketplace.
Professor Perna was highly active until his last days at NJIT, involved in all aspects of NJIT life – education, research, retention, recruitment, governance, and long-term planning. He had a large group of followers among NJIT's alumni, many of whom kept professional ties with him, sometimes many decades after graduation. Alumni often came looking for him at annual reunions, and mentioned him in letters and articles as a key influencer who helped them prepare for professional success. Indeed, Professor Perna's legacy is the generations of NJIT students who owe him the training and careful preparation that launched their rewarding careers and positioned them to make a mark in a highly competitive environment. Moreover, with his long-time service and dedicated involvement, Angelo Perna often served as our living institutional memory. He carried our collective knowledge and learned experiences, and provided insight and advice from decades of experience and careful observation. His colleagues and students will miss his intelligence, guidance, counsel and friendship.
Provost and Senior Executive Vice President Fadi P. Deek noted, "During his long career at NJIT, Professor Perna was an inspirational and award-winning teacher and mentor to thousands of students at all levels of university education. Most importantly, he touched the lives of many undergraduates through the McNair Scholars Program. Deep sadness for Angie's loss will be felt among the NJIT community and beyond."
President Joel S. Bloom added, "Angie Perna will be deeply missed, but his impact upon NJIT and its students will endure because the passion he brought to his work made an indelible impression upon so many."
We send our heartfelt condolences to Professor Perna's family and to his many friends and students at NJIT and the community. The university will hold a memorial service at a later date.