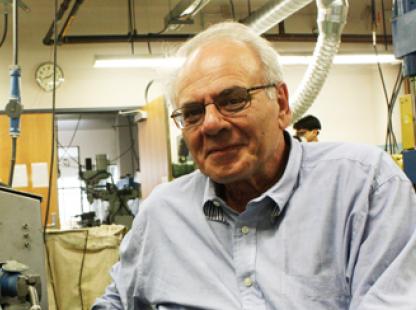 Marino Xanthos Lecture Series
Marino Xanthos Memorial Lectures
Plastics - What Are They and Could We Live Without Them?
Frank S. Bates
Department of Chemical Engineering and Materials Science
University of Minnesota
Monday, October 12, 2020
2:30 pm
---
Abstract
Synthetic plastics, discovered less than a century ago, have transformed nearly every facet of our lives.  With sales of a half trillion dollars annually, the polymer industry has emerged as a dominant factor in the world economy.  In general, plastics enhance our standard of living, providing materials that reduce energy consumption, improve health care and expand access to food, water and clean air. But, as with any new technology, the emergence of products reliant on giant molecules known as macromolecules has been accompanied by various societal challenges, most notably the generation of enormous amounts of waste that clutters our landfills and has the potential to damage the environment.  This lecture blends a review of the extraordinary science and engineering that enables plastics to improve our lives and peers into the future when plastics will be engineered to be compatible with a sustainable economy. 
---
About Marino Xanthos
Marino Xanthos, Ph.D. was a professor of Chemical, Biological and Pharmaceutical Engineering.  Associate Provost for Graduate Studies, and Senior Technical Advisor to the Polymer Processing Institute (PPI) at NJIT Petroleum Institute.  During the period of 1987 to 1995, he was the research director of the PPI and Stevens Research Professor.  He was appointed professor of chemical engineering at NJIT in 1995, where he served until his passing as Director of the Polymer Engineering Center, Director of the Center of Processing of Plastics Packaging, Chairperson of the Executive Committee of the Materials Research Council, Senior Technical Adviser to the PPI at NJIT, and finally Associate Provost for Graduate Studies.
Dr. Xanthos was internationally recognized for his polymer blends, polymer composites and polymer foams expertise, and his studies on polymer modification through the use of functional particulate additives and reactive extrusion processes, which he also applied to the processing of pharmaceutical oral dosage forms. His research work and publications involved Ph.D. and master's students at NJIT and Stevens.  He was also involved with PPI technical staff and industrial colleagues nationally and internationally in the solution of numerous important industrial problems.
Dr. Xanthos became a Fellow of the Society of Plastics Engineers (SPE) in 2003 and received the NJIT Board of Overseers Harlin J. Perlis Award that same year in recognition of his exemplary scholarship and outstanding research in the field of polymers.  He served as the U.S. representative to the Board of the Polymer Processing Society since 2005.  In 2010, he received the Heinz List Award in recognition of his outstanding achievements in Reactive Processing and Devolatilization.
Dr. Xanthos deeply cared for and was a renowned mentor and advisor to his graduate and undergraduate students.  For many years, he was the advisor and life force of the NJIT student chapter of the Society of Plastics Engineers (SPE).
This lecture series was established by his family, friends and colleagues to memorialize his accomplishments and love of his chosen field.
 
---
Previous Lectures
Liquid Crystals - From Simple Constructs to Autonomous Materials
Juan de Pablo, Ph.D.
Pritzker School of Molecular Engineer
The University of Chicago
Functional Polymer Materials Designed for Advanced Applications and Sustainability
Karen L. Wooley, Ph.D.
Department of Chemistry, Chemical Engineering, and Materials Science & Engineering
Texas A&M University
Engineered Silk Proteins for Regenerative Medicine
David L. Kaplan, Ph.D.
Stern Family Endowed Professor of Engineering
Professor & Chair, Department of Biomedical Engineering
Distinguished University Professor
Tufts University
Director, NIH P41 Resource Center on Tissue Engineering
Editor-in-Chief, ACS Biomaterials Science and Engineering
Xanthos Memorial Lecture Program 2017
Breaking Moore's Law, 
Thomas P. Russell, Ph.D.
Department of Polymer Science and Engineering, University of Massachusetts, Amherst and
Materials Sciences Division, Lawrence Berkeley National Laboratory, Berkeley, California
Xanthos Memorial Lecture Program 2016
The Unusual Rheology of Concentrated Suspensions
Morton M. Denn, Ph.D.
Benjamin Levich Institute, City College of New York
Xanthos Memorial Lecture Program 2015