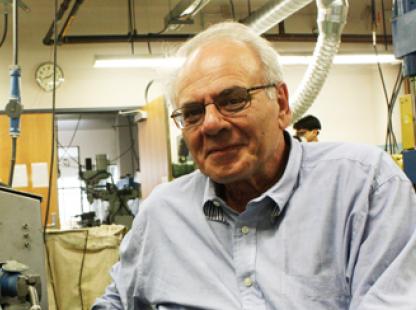 Marino Xanthos Lecture Series
Marino Xanthos Memorial Lectures
Marino Xanthos Memorial Lecture 2023
Wednesday, October 25, 2023
2:30 pm 
Eastern Standard Time (US & Canada)
Central King Building
Room L-70 (Agile Strategy Lab)
Frontiers in Supramolecular Design Materials
Samuel Stupp
Department of Chemistry
Northwestern University 
---
Abstract
The powerful functions of materials in the living world utilize supramolecular systems in which molecules self-assemble through noncovalent connections programmed by their structures. Yet, the design of highly specific interactions between molecules began in earnest only three decades ago motivated by the Nobel Prize in Chemistry in 1987. Our laboratory has focused over the past three decades on integrating this notion of bio-inspired supramolecular engineering into the design of novel materials. I will discuss in my lecture three examples of functional supramolecular materials we need for our future. The first is inspired by the photosynthetic machinery of green plants, creating materials that harvest light to produce fuels for sustainable energy systems. The second example is that of life-like robotic materials that effectively transduce different types of energy into mechanical actuation and locomotion of objects for future technologies. The third topic will be supramolecular biomaterials that mimic extracellular matrices and provide unprecedented bioactivity to regenerate tissues. In this example, I will discuss a recent breakthrough in structural design of supramolecular motion which surprisingly led to biomaterials with potential to reverse paralysis by repairing the brain and the spinal cord.
---
Samuel Stupp is a Board of Trustees Professor of Materials Science and Engineering, Chemistry, Medicine, and Biomedical Engineering at Northwestern University. He also directs Northwestern's Simpson Querrey Institute for BioNanotechnology and the Center for Bio-Inspired Energy Science, an Energy Frontiers Research Center funded by the U.S. Department of Energy. Stupp's interdisciplinary research is focused on developing self-assembling supramolecular nanostructures and materials for functions relevant to renewable energy, regenerative medicine, and robotic soft matter. He is a member of the U.S. National Academy of Sciences, the U.S. National Academy of Engineering, the American Academy of Arts and Sciences, the Royal Spanish Academy, the National Academy of Sciences of Latin America, the National Academy of Sciences of Costa Rica, and the U.S. National Academy of Inventors.
Stupp has won numerous awards over the course of his career, including three American Chemical Society national awards: the Award in Polymer Chemistry, the Ronald Breslow Award for Achievement in Biomimetic Chemistry, and the Ralph F. Hirschmann Award in Peptide Chemistry. He recently received the 2022 Materials Research Society Von Hippel Award, the highest honor awarded by this society. Other awards include the Department of Energy Prize for Outstanding Scientific Accomplishment in Materials Chemistry, the Materials Research Society Medal Award, the Royal Society of Chemistry Award in Soft Matter and Biophysical Chemistry, and the Nanoscience Prize from the International Society for Nanoscale Science, Computation, and Engineering, which recognizes lifelong achievement in the field.
---
About Marino Xanthos
Marino Xanthos, Ph.D. was a professor of Chemical, Biological and Pharmaceutical Engineering. Associate Provost for Graduate Studies, and Senior Technical Advisor to the Polymer Processing Institute (PPI) at NJIT Petroleum Institute.  During the period of 1987 to 1995, he was the research director of the PPI and Stevens Research Professor.  He was appointed professor of chemical engineering at NJIT in 1995, where he served until his passing as Director of the Polymer Engineering Center, Director of the Center of Processing of Plastics Packaging, Chairperson of the Executive Committee of the Materials Research Council, Senior Technical Adviser to the PPI at NJIT, and finally Associate Provost for Graduate Studies.
Dr. Xanthos was internationally recognized for his polymer blends, polymer composites and polymer foams expertise, and his studies on polymer modification through the use of functional particulate additives and reactive extrusion processes. He applied those to the processing of pharmaceutical oral dosage forms. He advised Ph.D. and master-level students and was also involved with PPI technical staff and industrial colleagues nationally and internationally.
Dr. Xanthos became a Fellow of the Society of Plastics Engineers (SPE) in 2003 and received the NJIT Board of Overseers Harlan J. Perlis Award that same year in recognition of his exemplary scholarship and outstanding research in the field of polymers. He served as the U.S. representative to the Board of the Polymer Processing Society since 2005. In 2010, he received the Heinz List Award in recognition of his outstanding achievements in reactive processing and devolatilization.
Dr. Xanthos deeply cared for and was a renowned mentor and advisor to his graduate and undergraduate students.  For many years, he was the advisor and life force of the NJIT student chapter of the Society of Plastics Engineers (SPE).
This lecture series was established by his family, friends and colleagues to memorialize his accomplishments and love of his chosen field.
 
---
Previous Lectures
Interfacial Rheology: From Beer Foams to Material Design
Jan Vermant
Department of Materials
ETH Zürich, Zürich Switzerland
---
Plastics - What Are They and Could We Live Without Them?
Frank S. Bates
Department of Chemical Engineering and Materials Science
University of Minnesota
---
Liquid Crystals - From Simple Constructs to Autonomous Materials
Juan de Pablo, Ph.D.
Pritzker School of Molecular Engineer
The University of Chicago
---
Functional Polymer Materials Designed for Advanced Applications and Sustainability
Karen L. Wooley, Ph.D.
Department of Chemistry, Chemical Engineering, and Materials Science & Engineering
Texas A&M University
---
Engineered Silk Proteins for Regenerative Medicine
David L. Kaplan, Ph.D.
Stern Family Endowed Professor of Engineering
Professor & Chair, Department of Biomedical Engineering
Distinguished University Professor
Tufts University
Director, NIH P41 Resource Center on Tissue Engineering
Editor-in-Chief, ACS Biomaterials Science and Engineering
Xanthos Memorial Lecture Program 2017
---
Breaking Moore's Law, 
Thomas P. Russell, Ph.D.
Department of Polymer Science and Engineering, University of Massachusetts, Amherst and
Materials Sciences Division, Lawrence Berkeley National Laboratory, Berkeley, California
Xanthos Memorial Lecture Program 2016
---
The Unusual Rheology of Concentrated Suspensions
Morton M. Denn, Ph.D.
Benjamin Levich Institute, City College of New York
Xanthos Memorial Lecture Program 2015