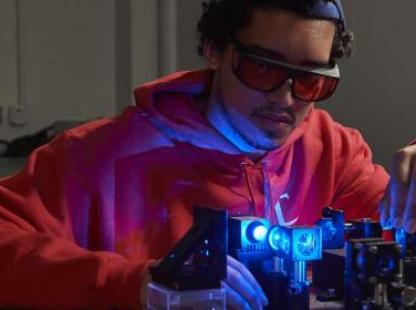 FAQs
Frequently asked questions about the Co-op Program
What is cooperative education (co-op)?
Co-op is a 6-month, full-time, paid educational experience. Students alternate between periods of academic study at the university and periods of full-time co-op employment in industry. The employment assignments (usually six months in duration) are related to the student's academic and career interests. The combination of academic and industrial experiences provides better understanding of the engineering workplace and helps with career development.
What's the difference between a co-op and an internship?
Both co-ops and internships are excellent professional learning experiences. Internship are usually part-time experiences which takes place around your academic schedule, although they may be full-time over the summer. A co-op is a full-time experience for six months. Internships tend to focus on short-term projects, whereas co-ops are essentially on-the-job training. Internships do not typically offer credit, and do not typically require faculty approval, whereas the traditional NCE undergraduate co-op program does offer educational credit, and requires faculty approval.
Why is the co-op program five years?
The co-op program comprises two full-time, 6-month work experiences, which adds one additional year to your academic experience. Six months is the optimum amount of time a student can spend at a company while getting the best learning experience, and participating in two co-op experiences significantly increases the average graduate starting salary, and career confidence. Moreover, many students will receive a job offer along with their second co-op experience, leading to guaranteed employment well before graduation.
What's the average pay rate for a co-op?
Hourly pay for co-ops ranges between $18 and $22 an hour, although some positions pay more.
Do I get charged tuition and fees while participating in a co-op?
If you are approved participate in the traditional NCE undergraduate co-op program, you will not be charged tuition during the semester(s) you participate. However, you will be charged university fees (click here to see current rates). If you stay on campus during your co-op, or you do not waive housing, you will have to pay that fee. If you choose to stay on the meal plan, or you do not waive the meal plan, you will have to pay that fee.
How do I waive housing and/or meal plan fees?
Please email Residence Life and ask them to cancel the plan at 973-596-3039 or email reslife@njit.edu.
I have a scholarship. What will happen to it during my co-op?
Your scholarship will pause during the semester of your co-op, and return the following semester.

Can I take regular courses during co-op experience semesters?
With the approval of the department co-op advisor and in consultation with the academic advisor, a student on co-op assignment can take up to two courses in each of the Fall and Spring terms. During the Summer term, a co-op student can take one additional course. The tuition for these course(s) will be billed on a per-credit basis.
Do I have to pay if I choose to take additional courses?
If you choose to take additional courses while you participate in a co-op, you will need to pay for those credit hours.
Who are all the advisors and staff that I will work with in my co-op?
There are several points of contact to support you in finding and participating in a co-op. The most important to know are:
Your faculty advisor will connect with you throughout your academic career to ensure that your courses are in line with your goals.
Your faculty co-op advisor will specifically advise you on co-op questions, and will serve as your professor for the co-op course in which you will enroll during your co-op. An academic advisor works with the student to develop his
Your Career Services advisor will help you find a co-op position, and can assist you in preparation for interviews and participation.
Your academic advisor is a staff member who will help guide your early academic enrollment questions.
What is ENGR210 / 211? How does it help me with the co-op experience?
First, it's important to understand that "ENGR" stands for a general engineering course. Any course you take within your major will have that major's letters first. Since the state of New Jersey caps the number of credits that a student can take within certain engineering fields, your course structure is critical. To that end, ENGR 210 (which has become the hybrid 211 course) is a 1-credit course general engineering course. It provides engineering students with multidisciplinary and career planning skills in a seminar environment with emphasis on career planning, resume writing, and interview skills. This course was structured so that you will not exceed the state's credit cap, while still giving you some academic credit for your hard work.
Can I obtain degree credit for my co-op experience?
The co-op standard courses ENGR310 and ENGR410 are designed only to help students maintain full-time status during co-op experiences and will not count towards degree credits. Instead, your academic career will extend for additional semesters to accommodate the time spent on co-op.
What happens if a student does not get a co-op job?
NJIT has a large number of co-op jobs available to students. The co-op advisor will work closely with each student to help him or her secure a suitable position. However, in rare cases, due to market conditions, economic circumstances or other factors, a student may not get a co-op job in a given semester. In that case, and depending on their field of study and program, the student may return to classes and begin the process of applying for co-op jobs for the subsequent semester.
What happens if I don't like the co-op, or I need to drop out?
While we strongly advise against dropping out of a co-op, we understand that circumstances sometimes require it. Due to the academic nature of the program, and the fact that your co-op participation is what waives your tuition fees, you will need to immediately re-enroll in courses (if you are not past the re-enroll dates), or, with the approval of your faculty co-op advisor, you will need to find another co-op opportunity that meets similar criteria and is willing to take you on. While this is technically possible, we strive to ensure that students do not need to take such drastic steps.
What happens when I'm done with my co-op?
At the conclusion of your co-op, you will make a presentation about your experience to your faculty co-op advisor. Different faculty have different preferences for how you present your work and learning experiences, but all of them will require you to demonstrate the specific items you've learned in the co-op, and how they pertain to your field of study.