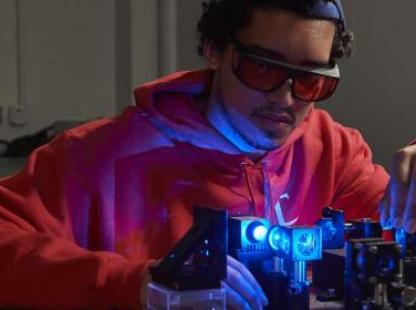 FAQs
Frequently asked questions about the Co-op Program
What is cooperative education (co-op)?
Co-op is an educational experience. Students alternate between periods of academic study at the university and periods of full-time co-op employment in industry. The employment assignments (usually six months in duration) are related to the student's academic and career interests. The combination of academic and industrial experiences provides better understanding of the engineering workplace and helps with career development.
Can I take regular courses during co-op experience semesters?
With the approval of the department co-op advisor and in consultation with the academic advisor, a student on co-op assignment can take up to two courses in each of the Fall and Spring terms. During the Summer term, a co-op student can take one course. The tuition for these course(s) will be billed on a per-credit basis.
What is the difference between an academic advisor and the department co-op advisor?
An academic advisor works with the student to develop his or her academic schedule and ensure that graduation requirements are met. The departmental co-op advisor works with the student to prepare him or her for co-op assignments and the interviewing process. The co-op advisor helps the student identify co-op jobs that fit with the student's academic, professional and personal goals. These two advisors collaborate to ensure that the classroom and co-op experiences are integrated.
What is ENGR210? How does it help me with the co-op experience?
ENGR 210 is a 1-credit course. It provides engineering students with multidisciplinary and career planning skills in a seminar environment with emphasis on career planning, resume writing, and interview skills.
What does NJIT offer to help the students prepare for co-op?
In addition to helping students through ENGR210 course, NJIT also offers related opportunities through CDS. CDS offers workshops, mock interviewing sessions, daily walk-in hours and individual counseling to graduating seniors, alumni, and students preparing for co-op.
Can I obtain degree credit for my co-op experience?
The co-op standard courses ENGR310 and ENGR410 are designed only to help students maintain full-time status during co-op experiences and will not count towards degree credits. 
What happens if a student does not get a co-op job?
NJIT has a large number of co-op jobs available to students. The co-op advisor will work closely with each student to help him or her secure a suitable position. However, in rare cases, due to market conditions, economic circumstances or other factors, a student may not get a co-op job in a given semester. In that case, and depending on their field of study and program, the student may return to classes and begin the process of applying for co-op jobs for the subsequent semester.